"Zoom" has taken on a whole new meaning lately during quarantine life, but our family is longing for the days where we can "zoom" on roller coaster adventures again soon. Thankfully, Disney Parks Blog has been releasing bits and pieces of virtual rides and foodie recipes where we can continue to have #DisneyMagicMoments at home during this time.
The Incredicoaster at Disney's California Adventure Park is one of my kids' favourites and we can't get enough of the cookie smell of Jack-Jack's Num-Nums ooey-gooey chocolate chip cookies just before you enter!
If you haven't had a chance to ride The Incredicoaster, you are going to want to watch the point of view ride so you can at least experience it virtually for now!
Now onto the ooey-gooey goodness of Jack-Jack's Num Num Chocolate Chip Cookies! Pixar released the recipe and we had to try them at home to at least try to simulate what we could to re-create the experience! We didn't have chocolate chunks at home, so we made do with what we have for our own chocolate chip cookies to comfort us during quarantine! 
Ingredients:
2 1/4 cups flour
1 cup butter (2 sticks), softened
1 1/4 cups brown sugar
1/4 cup granulated sugar
1 egg
1 egg yolk
1 teaspoon sea salt
1 teaspoon vanilla extract
1 teaspoon baking soda
1 cup chocolate chips
Directions:
In a saucepan, brown the softened butter on medium heat, stirring frequently with a wooden spoon or spatula. Let the butter cool until it begins to solidify.
Cream the butter, sugar, brown sugar, and salt in a mixing bowl using an electric mixer or whisk until light and fluffy.
Beat a whole egg and another egg yolk into the sugar-and-butter mixture, along with the vanilla.
In a separate bowl, combine the flour, baking soda, and sea salt. Slowly mix the dry ingredients into the wet. Using a wooden spoon or spatula, fold in the chocolate chips until evenly distributed.
Then use an ice cream scoop to shape the dough into balls and place them two inches apart on a parchment-paper-lined baking sheet. Let the dough balls chill in the fridge for an hour, or preferably overnight.
Preheat the oven to 350°F. Once the oven is ready, bake the cookies for 7-10 minutes, or until the edges are golden brown but the cookies are still soft in the center. Enjoy!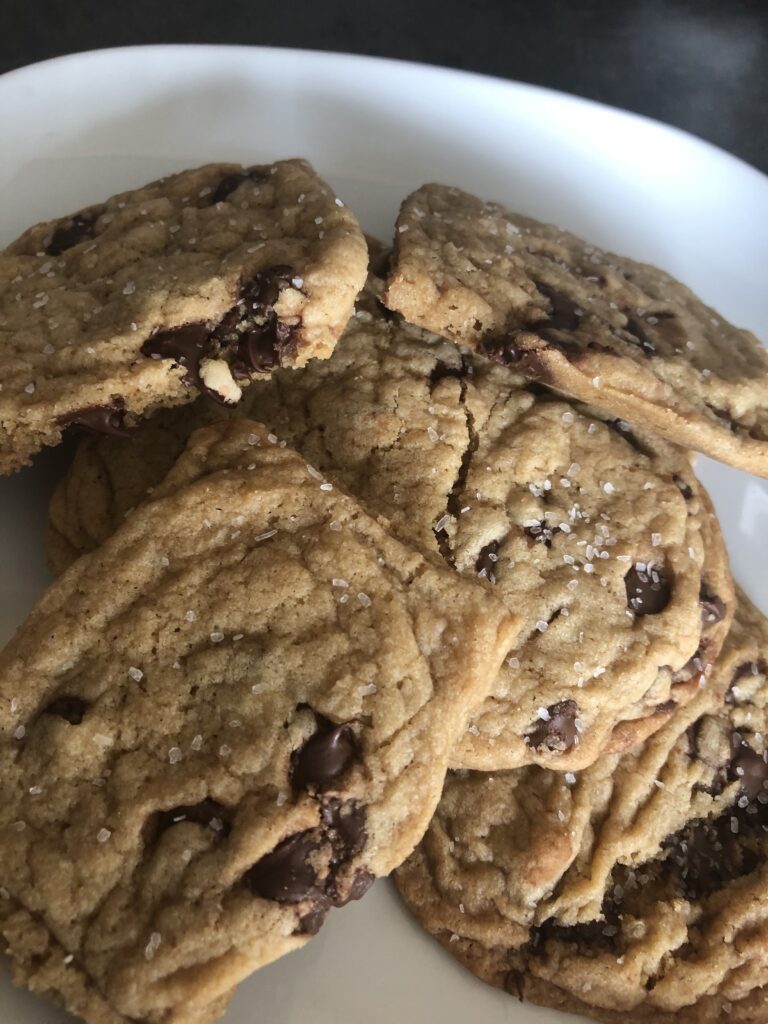 Our kitchen instantly filled with the aroma of freshly baked. warm and chocolatey-chip goodness right from the oven! And if we closed our eyes, we can see ourselves right at the entrance of The Incredicoaster!
Try your hand at these cookies and let me know how you make out, and if you are not instantly taken to your favourite moment in Pixar Pier!
Until we can visit again, this is how we create our own #DisneyMagicMoments at home! How do you infuse Disney moments in your day?