It's that time of year again…….the last Tuesday of January has been officially designated as "National Plan for Vacation Day". And yes, it is a real thing! A whole day dedicated to encouraging individuals to plan their vacations for the rest of the year NOW so that you make it a priority for THIS year!
What started out based on American stats to encourage people to take vacation and plan for it, the movement of Project: Time Off can apply to many of us in Canada who don't take enough time off to fully enjoy our vacation time. As a whole, many individuals work too hard and are not taking enough vacation days to take a step back. There is more to life than paying bills. There is more to life than just work.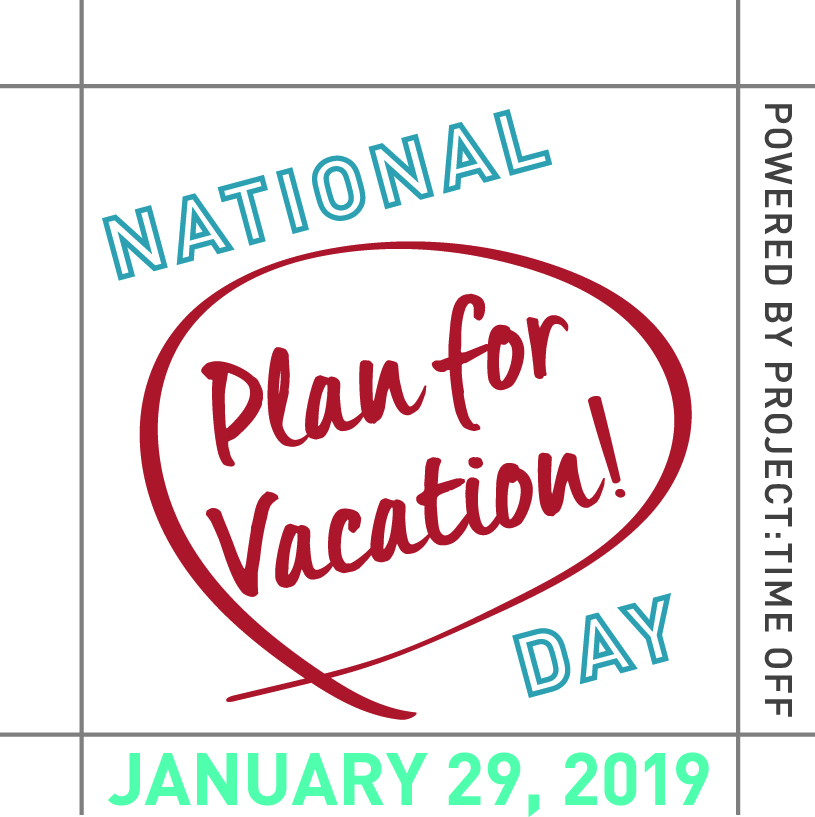 "So much to do, so little time."
Who else feels this way??
I'm sure there are many of us who fall victim to "not enough time". We are all busy. I get it. Work, school, kids, family, activities, commitments…..there are many reasons. And all legit. But at the same time, that may be how we see our daily lives, the reality is that there actually IS time to fit it all in, including planning a vacation!

It's time for a WINTER-vention! There are travel agents here to help you make sure you maximize your vacation time and take the stress out of planning so that you can focus on what is most important – getting the most value of your vacation investment and knowing you have a trusted travel advisor who is combing through the options to ensure you have the right fit for your trip.
So, I ask you, "Are YOU using up all of your vacation days each year?"
"What are your travel goals for this year and what can you do to achieve them?"
As with any goal setting, making it happen begins with proper planning and planning specific travel plans will help you stay motivated, stay within your desired budget and making it all possible. And if this sounds too overwhelming for you, think of the alternative; What would you be doing if you didn't start vacation planning? Well, you wouldn't be on vacation!
And we're here to help! Travel agents are professional travel planners who plan vacations every day. It is our goal and our dream to plan your next vacation….with pleasure!
The benefits of planning a vacation extend beyond the trip itself. Trip planning is one of the most exciting processes to be a part of and with our expertise, we guide you, plan with you and make it all possible. Think of the moment you finally booked that flight, or made that deposit. Or when you receive that email from me that says, "Your vacation is booked!"
So exciting! And then it just gets better, and each day is one day closer to your travel day.
What are you waiting for? It's time to take back your calendar and put vacation at the top of your list of priorities for this year. And now is the PERFECT time to think about what your travel goals are this year.

Don't be afraid to dream big with travel! You never know how we can help you make it happen. And it may be easier than you think.
This year, don't let your vacation days be part of a statistic. Put the fear of missing out behind you and turn your bucket list into a to-do list by starting to plan now.
Need some ideas?
If you're planning on heading to Disneyland or Walt Disney World this year, the Canadian Residents Discounted Ticket Offer is available for purchase until March 15, 2019 for Walt Disney World (for travel by September 27, 2019) or until April 23, 2019 for Disneyland (for travel until May 23, 2019). Visit the parks before Star Wars Galaxy's Edge opens later this year and the parks are expected to stay at peak crowd levels for a really really long time! W
While you are in the Orlando area, consider a Universal Orlando vacation with two days free! Purchase by March 14, 2019 for travel until May 31, 2019! A perfect Spring Break idea for this year if you are still looking for Spring Break travel plans.
Las Vegas is always a West Coast favourite because it's an easy and short flight with the ever changing opportunities for fun! And while it hasn't always been known for its family-friendly atmosphere, many people don't realize all the great family fun options Las Vegas can offer! So don't discount Vegas as a part of any trip plans!
Hawaii remains an aspirational destination for many travellers and the lure of paradise will guarantee you a blissful and inspiring vacation from the spirit of the islands themselves. Disney fans won't want to miss Aulani, A Disney Resort and Spa in Ko'Olina, Oahu or for some truly bucket list adventures, the Island of Hawaii has everything you can experience in one trip!
Considering a cruise but don't know where to begin? Let me help pair you with the cruise line that suits your travel preferences best so you can simply decide when and where! I love my Disney cruises but I am trained and certified in other cruise lines as well so don't be afraid to reach out for cruise advice and guidance.
At the end of the day, I just want you to take the first step. To make the decision to travel somewhere new. To reach out and let me help you make it happen!
You can do this!
No wait…..WE can do this!! Reach out TODAY and let's start planning for your vacation NOW!